WARNING: This New Traffic Loophole MUST NOT LEAVE This Page! Viewer Discretion Advised:
New
A.I Powered Software
Lets You Place Amazing Visuals On Social Media That Disguise Themselves As ADS,
Legally STEALING Their Most Valuable Asset…Paid Traffic,
But it's 100% Free!
Use The Exact Same Software I Personally Use To Transform What Should Be Paid Traffic Into FREE Traffic In Just 3 Clicks
Keep Up a 24/7 Social Presence, Get Free Traffic, Even When You Sleep
Get unlimited FREE Daily traffic from red-

hot social platforms: Facebook, Twitter, Tumbler, Reddit, LinkedIn, WordPress & Blogger
Completely Beginner-friendly

Social Post Creator

to create & edit ultra-engaging visuals in minutes
Commercial Rights –

Handle Client's Media Campaigns - Make Profits
In-depth Statistics and Analytics
Powerful engagement

engine to maximize your conversions & sales
Powerful Builtin Image Editor,

Quotes & Meme Creator
Access massive collection of over 4 million images

and other visual assets in a single click
Connect, Create Content & Post
Multiple Social Media Accounts
Simultaneously in Just 1 Click from just one easy-to-use dashboard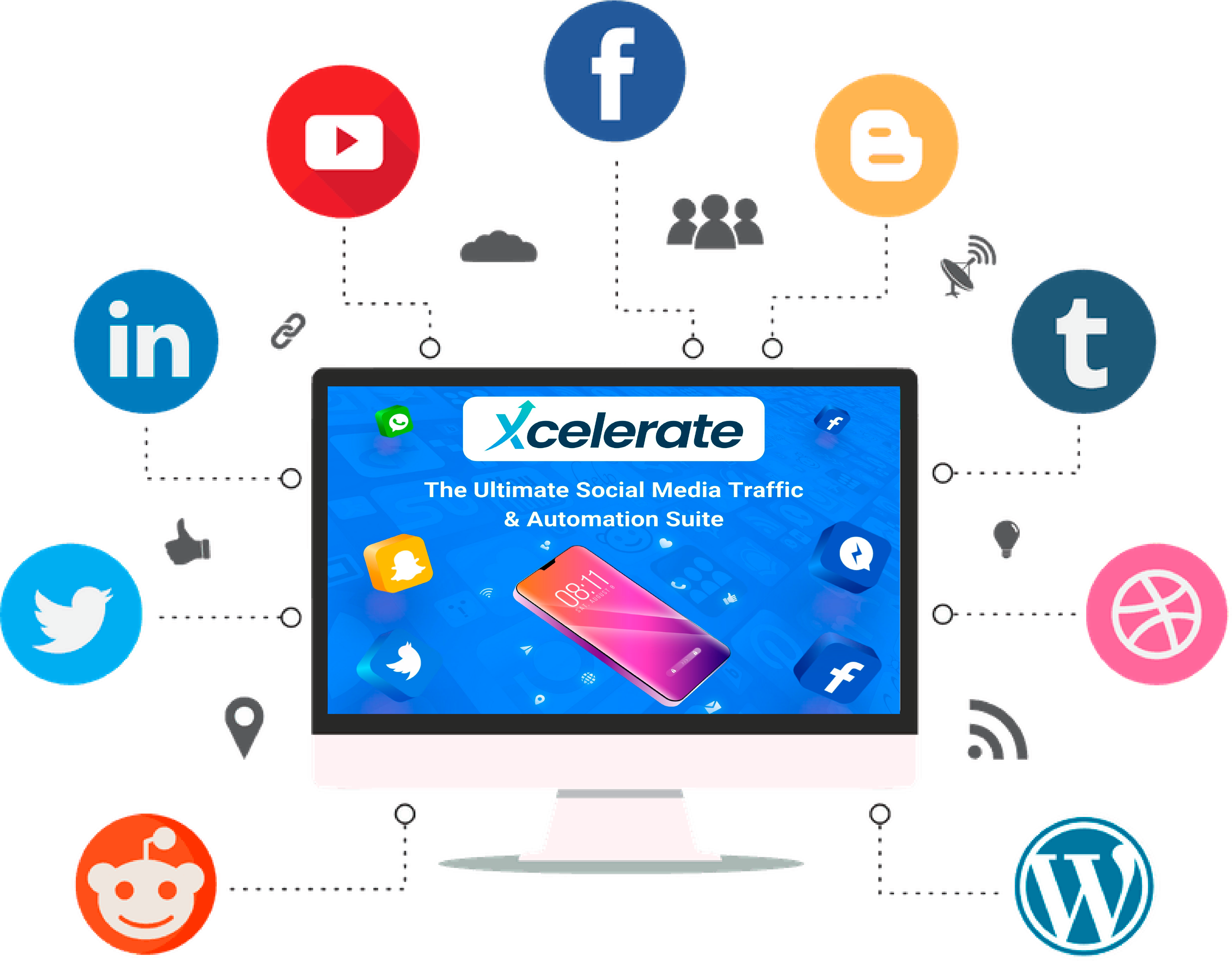 Grow Your Social Accounts on Complete AUTOPILOT
& Start Turning Unlimited 100% REAL, Targeted Prospects to BUYERS
BEST Part: It Works In Easy 3 Steps
Connect all of your 7 social media accounts.
Create and Schedule Content Across ALL Your Social Media Accounts with A SINGLE Click
Hit activates and let Xcelerate interact with prospects to turn them into sales all by itself.
With Xcelerate, It feels like having a 100s of virtual assistants working for you
24/7/365 days without taking a break or day-off, And, off-course, zero expenses and faster results.
Imagine keeping up a 24/7 social presence HIGH, even when you are asleep
Get EASY FREE TRAFFIC and Sales With Consistent Posting using XCELERATE
YES! Now You Can Get 100% Real, Targeted TRAFFIC... FOR FREE!
And XCELERATE WILL TURN IT INTO SALES
It interacts with comments on your Post, replies to it with 100% automation and even sends private messages to anyone Who interacts with your Post on any of these social media accounts.
WATCH HOW XCELERATE WORK 
(QUICK DEMO VIDEO)
Create any type of Social Post on any of these major 7 social platforms (Image, Video, Carousel, etc.)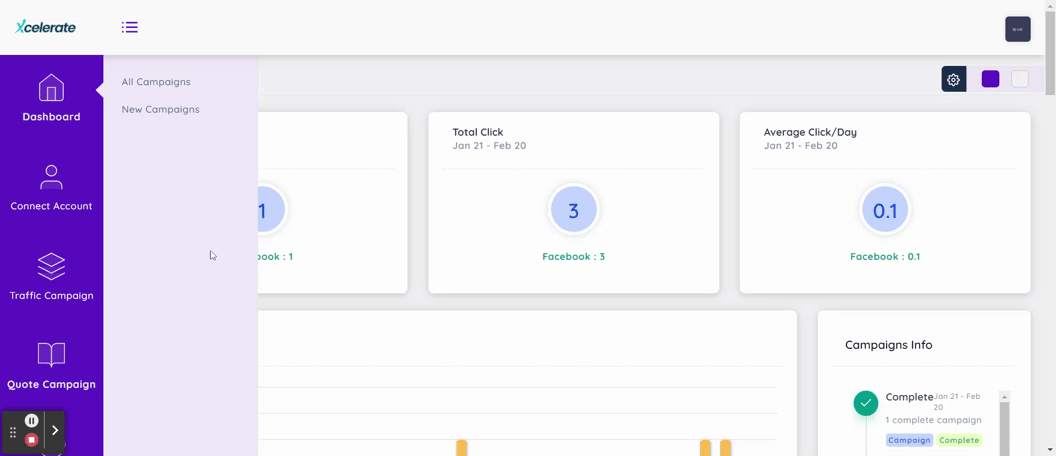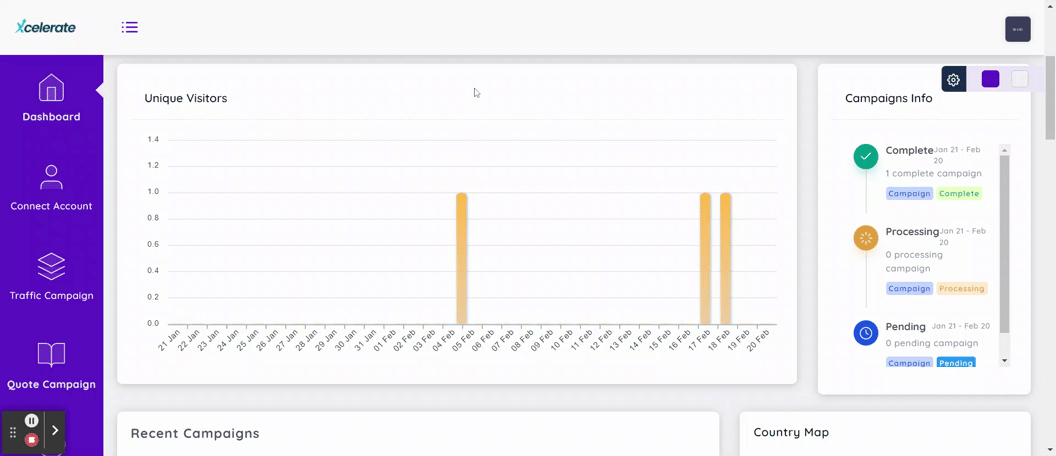 Post on all platforms in 1- Click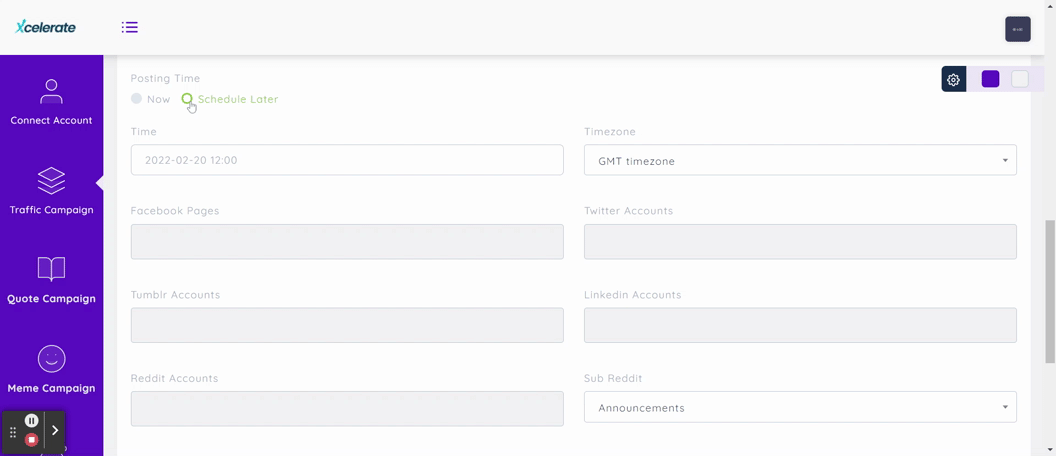 Unlimited Auto Scheduling
Schedule Unlimited post in advance in 1-Click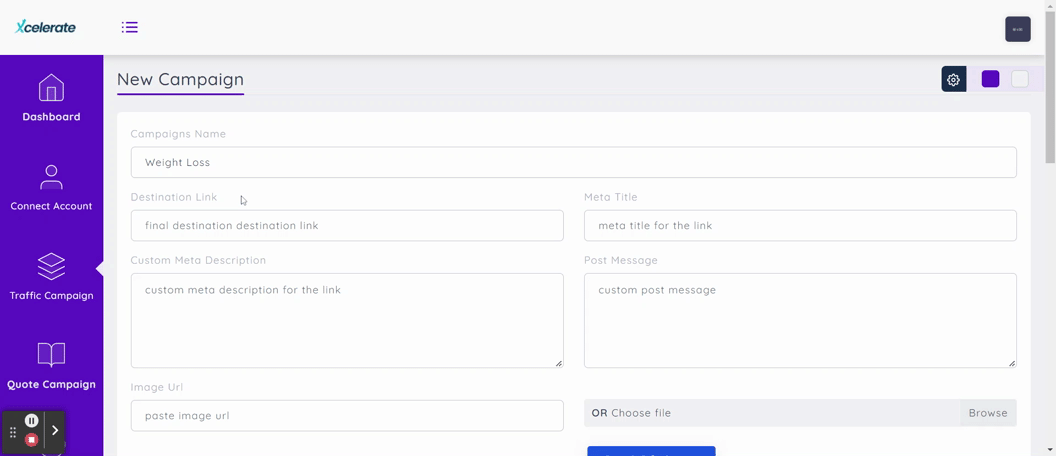 This feature lets you customize the links in your posts easily. The visitors will come to where you want them to go. 
Facebook and other social media see your links as unique every time so that you will gain maximum reach and engagement from every post.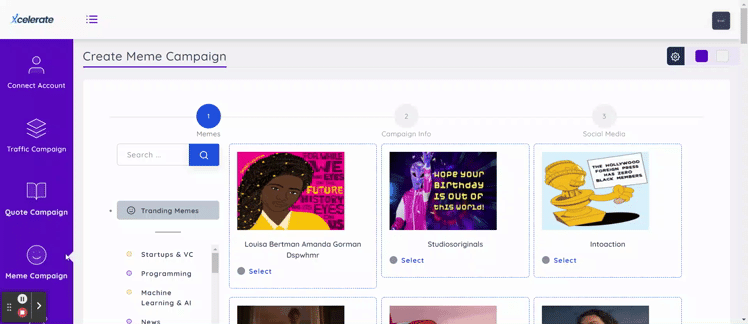 1-Click Viral Meme Finder
Viral any meme in a single click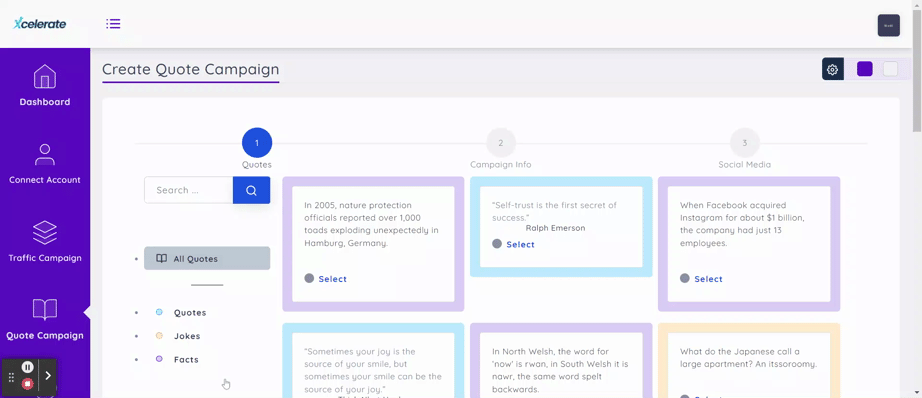 1-Click Viral Quote Finder
Get your quote viral in just single click using Xcelerate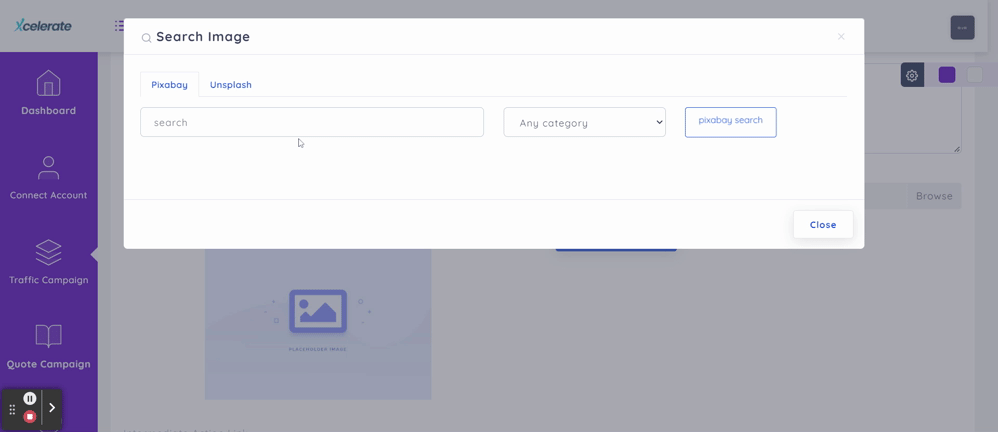 It finds any type of image for you form the massive directory of over 1.1 million images in a quick way. It searches by category and keyword for compelling images that "get the click" anytime.

It creates posts standing out with a stunning photo from free photo community. The keyword search tool makes it simple to find the perfect picture to highlight your posts.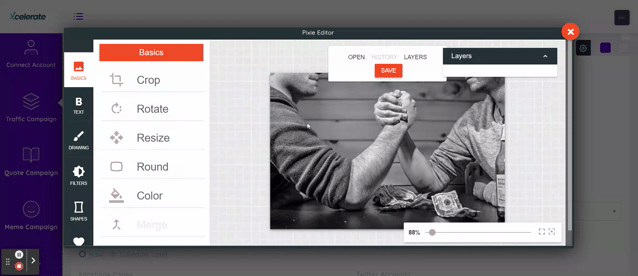 Easily crop, rotate, resize and bound corners for a custom look. Select from over a dozen unique image filters to make your posts stand out. Select from 600 font and styles to make your messages in many colors and outline combination. Free draw tool: Multiple brush styles and options & so many effects. You have the "WOW" factor & versatility of Photoshop with our learning curve.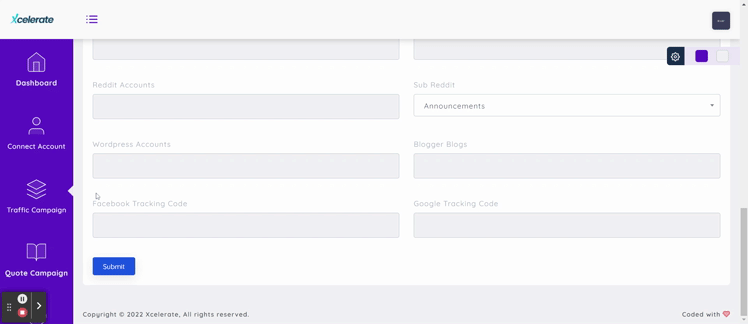 Google Analytics Tag & Facebook Pixel
While creating campaign in Xcelerate you can add you Gtag & FB pixel code therefore you can track visitors.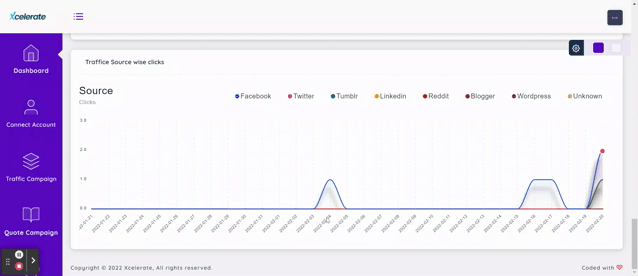 You can able to see all traffic source data from in campaign report without paid ads on social media. In campaign report you can see all social media post URL and other statistics.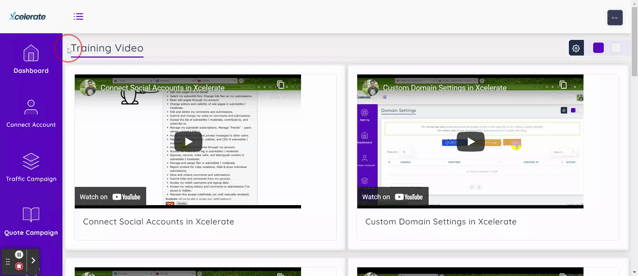 Complete Step-by-Step XCELERATE Software Video training and tutorials Included to help you get started ASAP
With Commercial Rights – Handle Client's Social Media Campaigns - Make Profits.
Manage All Client's social media and charge them monthly, yearly, Or high-one time amount while Xcelerate handles it for you with 100% automation of their social marketing. Imagine you can help countless businesses, influencers, and e-commerce stores profit like never before.

Imagine an App working on 100% automation to post your content To increase your social media presence to give you 500% more free traffic and sales.
Sellers On Fiverr and UpWork Charges Top Dollars for Social Media Marketing



With XCELERATE, You too can charge $100 to $1000 for social media marketing services.
Why offering social marketing service on Fiverr, UpWork or Freelancer is a Good Idea?
XCELERATE handles social media marketing of 9 major platforms on 100% automation.
This means you can handle 1000s of orders without any tiredness or delay
Offer your service at half the PricePrice of your competitors, get more orders, garner good reviews, and scale it fast.
Get XCELERATE at a low one-time price Today, Manage unlimited accounts – no limits, fulfill Unlimited Orders.
Get Xcelerate For One Time Payment
Usually $47/Month, Today Only 1-Time $37

Imagine Your New Income Source
No More spending $1000s of dollars in ads to get social engagement

No more posting CONTENT manually on multiple social platforms.

No more wasting hours in managing social media accounts.

No more having to hire Virtual Assistants to manage social handles.

Never spend money to get potential buyer prospects.

Never Struggle To Grow Your Social Media Accounts Again....
Imagine getting 100s of new prospects every day without doing any work.

Imagine having all your social media accounts on COMPLETE Autopilot.

Imagine being able to take your content VIRAL...in just 10 seconds.

Imagine spending seconds (instead of HOURS) setting up your social campaign.

Imagine getting more FREE Traffic and Sales from your social channels in less time.

What would it feel like to be able to get 100s of comments on every Post on your social Post?
Imagine The Savings. Profits and New Income Opportunities With XCELERATE
Xcelerate Is A Must For Every Business (Yes, Bricks & Mortar Too!)
A multi-channel approach can be utilized to the advantage of every kind of business and brand out there.
Affiliate 
Send offer after offer to leads with the full ability to pitch different products, answer any questions, and get them clicking on your links.
Freelancer
Showcase your work, connections, and expertise to potential clients and prove why you should be their top pick.
eCommerce business
Send new offers, back in stock alerts, and cart abandonment sequences to your leads to keep them coming back for more.
Retail 
Show off your best products with your brand's unique story behind it to keep leads away from the hands of your competition.
Real Estate 
Walk a lead entirely through the buying and sales process, from showing them listings, reminding them of appointments, and following-up.
Construction 
Offer quotes, follow-up, share reviews and pictures of your work, and prove your credibility.
Restaurants and Cafes 
Send your customers and leads your menus and make it easier than ever to order food from you, and showcase offers, new dishes, and more.
Coaching 
Show people you're invested in their journey and there every step of the way with constant public and private messages of support, encouragement, and guidance.
Medical Practices 
Build trust with potential leads through open channels of communication and send messages reminding them of appointments, and providing updates.
Legal Practices 
Ooze both approachability and credibility with a strong social media presence and get to know the details of a case before you take it on.
Accountancy/Credit 
Repair Keep customers and leads completely in the loop and get everything you need actioned quickly with reminders and appointments.
There Isn't A Business Xcelerate Cannot Make Better!
Entrepreneurs Making The Most Out Of Xcelerate In Their Businesses
It's Shockingly Amazing The Pipeline Of Sales & Commissions Xcelerate  Delivers
For every minute you're not touching base with every potential lead on your social media, you're losing time and money. 
Time and money that could be spent growing and scaling your business. 
Your most ideal customers are waiting to feel a connection with your brand. 
A connection that is created as easily as liking their comments, "chatting" with them in messenger, or posting conversation-worthy content across your channels... 
...everything Xcelerate can do on autopilot. 
It gives you the best of both worlds:
Real connection with your customers without the time-commitment! 
It's a connection that doesn't have to cost the earth in paid traffic, and will create more long-term customers and a loyal fan base. 
So, the question is…
How much growth do you want to stunt with your current strategy?

How long are you going to continue trying to manage your social media as a one-man band, or ill-organized team? 

How many lost leads and sales will it take for you to realize you need to systemize to succeed? 
If that's not a second more, then you're in the right place:
Claim Your Special Offer On Xcelerate Today
Usually the Xcelerate software costs $197/month. 
That includes everything you need to run your social media, connect with your audience, and convert leads on as good as autopilot. 
However for 5 days only, you can get the entire software for just $37 
That means for just $37, you can attack and conquer another corner of the two biggest players in the social media game Instagram and Facebook. 
Unlike ads, the Xcelerate is a one time investment. 
Every feature is free to use as many times as you want, both inside of the software, and on the social media platform itself.
Investing In The Xcelerate Software Today Is Like 
Investing In A Social Media Manager For Just $37/month.
It stays on top of your social media, so you don't have to. 

It connects and converses with your customers when you don't have the time to. 

It provides an ever-present social media presence that people trust, that you can use to grow and scale.
AND unlike a real social media manager, Xcelerate never sleeps, never goes on vacation, gets sick, tired, or goes off of the boil. 
You are guaranteed to get 100% output 100% of the time. 
With the bots doing all the backbreaking and often boring work for you on autopilot you can look forward to:
Increased conversion rates 

Hitting financial targets 

Retaining more long-term custom 

Attracting new leads with ease 

Developing a stronger brand 

Connecting with people 

More time to scale and grow 

Less time getting frustrated
Transform Your Social Media With Xcelerate Now!
30 Days Iron Clad 
Money Back Guarantee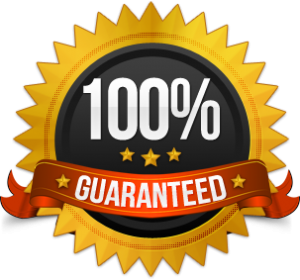 Yes, you heard it right. 30 Days Days Ironclad Money back Guarantee.
Only very few good software vendors can give you such a strong commitment for an extra 30 days period for refund guarantee.
Try out Xelerate completely risk-free for a full 60 days from purchase. Put the app through its paces, and enjoy a huge jump in email sales & commission
​
If for any reason you're having problems getting ClickPublisher up and running, help is as close by as our support desk. 
Simply contact us and we'll be pleased to assist you in any way we can. If you're still not getting the results after trying out ClickPublishr and following the included training to the letter, then we'll be pleased to give you a full-refund within 60 days after purchase.
What could be more fair than that?
You have our word on it.
​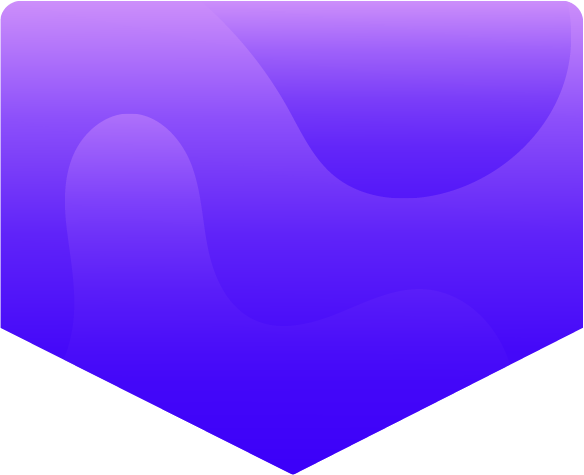 World's First 7-in-1 Social Media Traffic Automation Suite -

Create, Publish and Schedule Content On All 7 major Social Media Platforms Simultaneously in Just 1 Click.

Social Post Creator –

Create any type of Social Post (Image, Video, Carousel, Stories)

Unlimited Auto Posting –

Post on all 9 social platforms in 1-Click

Unlimited Auto Scheduling –

Schedule Unlimited post in advance in 1-Click - ENORMOUS Time Saver

Pixabay Search:

It finds any type of image for you form the massive directory of over 1.1 million images in a quick way. It searches by category and keyword for compelling images that "get the click" anytime.

Unsplash Search:

It creates posts standing out with a stunning photo from free photo community. The keyword search tool makes it simple to find the perfect picture to highlight your posts.

Rich Image Editor:

Easily crop, rotate, resize and bound corners for a custom look. Select from over a dozen unique image filters to make your posts stand out. Select from 600 font and styles to make your messages in many colors and outline combination. Free draw tool: Multiple brush styles and options & so many effects. You have the "WOW" factor & versatility of Photoshop with our learning curve.

Google Analytics Tag & Facebook Pixel:

While creating campaign in Xcelerate you can add you Gtag & FB pixel code therefore you can track visitors

.

Send Unlimited SMS

Deep Analytics

to easily track your social channel progress

Build Unlimited Leads

Without Spending A Single Dime!

Quickly Build Your Customer List -

Create highly engaging posts and messages

Keep up a 24/7 social presence,

Get Free Traffic, even when you sleep

Dedicated Support

30 Days

No Risk Money-Back Guarantee

COMPLETE STEP-BY-STEP VIDEO TRAINING AND TUTORIALS

Regular Monthly Updates

NEWBIE FRIENDLY

& FULLY CLOUD-BASED SOFTWARE

COMMERCIAL RIGHTS -

HANDLE CLIENTS SOCIAL CAMPAIGNS IN YOUR REZONATE DASHBOARD

Millions of Businesses Got Hit By Corona Crisis -

NEED Targeted Traffic Solution to Grow their Businesses

SOLVE THEIR TRAFFIC NEED

AND CHARGE THEM MONTHLY RECURRING FEE

Make BIG EXTRA PROFITS FROM LITTLE EXTRA INVESTMENTS
World's First 7-in-1 Social Media Traffic Automation Suite -

Create, Publish and Schedule Content On All 7 major Social Media Platforms Simultaneously in Just 1 Click.

Social Post Creator –

Create any type of Social Post (Image, Video, Carousel, Stories)

Unlimited Auto Posting –

Post on all 9 social platforms in 1-Click

Unlimited Auto Scheduling –

Schedule Unlimited post in advance in 1-Click - ENORMOUS Time Saver

Pixabay Search:

It finds any type of image for you form the massive directory of over 1.1 million images in a quick way. It searches by category and keyword for compelling images that "get the click" anytime.

Unsplash Search:

It creates posts standing out with a stunning photo from free photo community. The keyword search tool makes it simple to find the perfect picture to highlight your posts.

Rich Image Editor:

Easily crop, rotate, resize and bound corners for a custom look. Select from over a dozen unique image filters to make your posts stand out. Select from 600 font and styles to make your messages in many colors and outline combination. Free draw tool: Multiple brush styles and options & so many effects. You have the "WOW" factor & versatility of Photoshop with our learning curve.

Google Analytics Tag & Facebook Pixel:

While creating campaign in Xcelerate you can add you Gtag & FB pixel code therefore you can track visitors

.

Action Link Controller

customize all your affiliate/buy links with ease go. 

Deep Analytics

to easily track your social channel progress

Build Unlimited Leads

Without Spending A Single Dime!

Quic